What's on Guide and Route Map for Notting Hill Carnival 2019. Get ready for the explosion of culture and colour at the upcoming Carnival 2019 London event.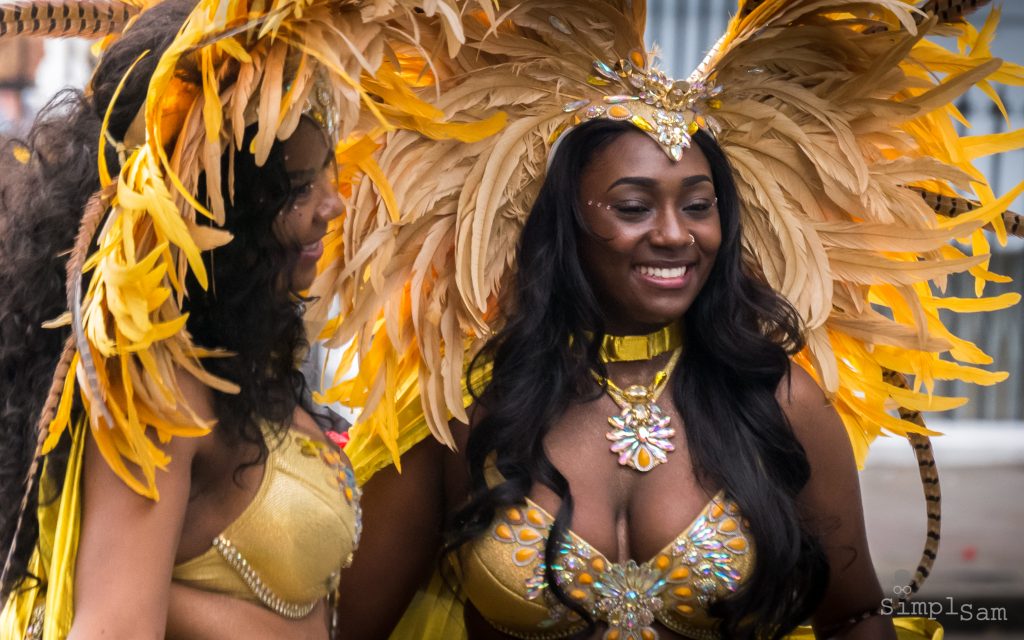 Put on your dancing shoes for Europe's biggest street festival.
The Notting Hill Carnival 2019 free annual musical entertainment event takes place (since 1966) in the streets of Notting Hill, West London in the Royal Borough of Kensington and Chelsea.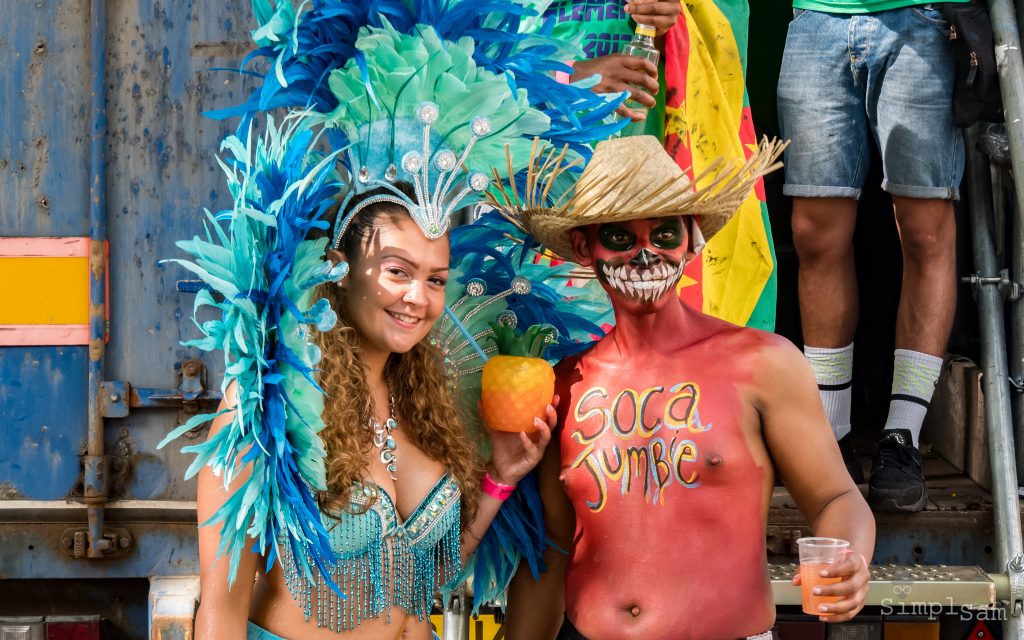 Soca Jumbie
Pulsating to the beats of soulful music – the streets of London will come alive with the rich intoxicating flavour of far away places, with the hugely anticipated grande finale on the August Bank Holiday Monday.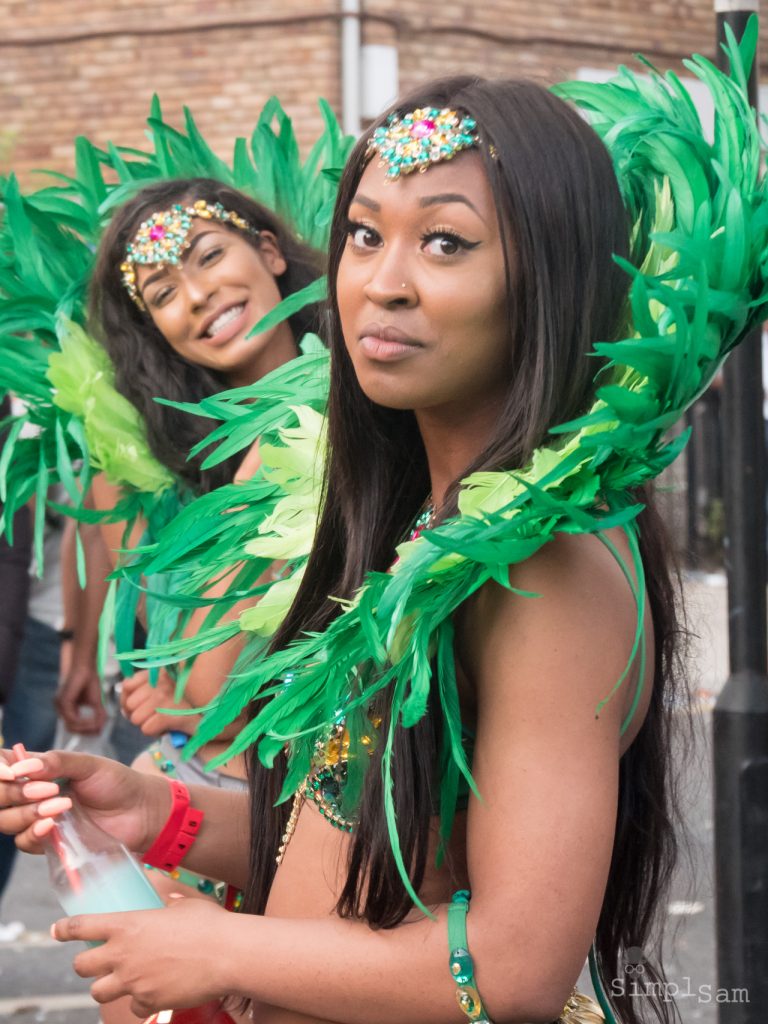 Green Hearts
Centered around the infamous Ladbroke grove — there will be a near-endless parade of striking performances. The greatest spectacle on earth!
We give you the ultimate lowdown on the who, what, why, when and where to help guide you to your perfect summer festival destination.
>> Take a moment to visit our Notting Hill Carnival 2018, 2017 & 2016 photo galleries.
Who is Carnival 2019 for?
"Carnival is for everyone" — the young and the old, the brave and the bold. It isn't called Europe's biggest street festival – for no reason. The area is populated by the busting Portobello Market and an incredible array of pop-up stalls, shops, bars, parks and street entertainment.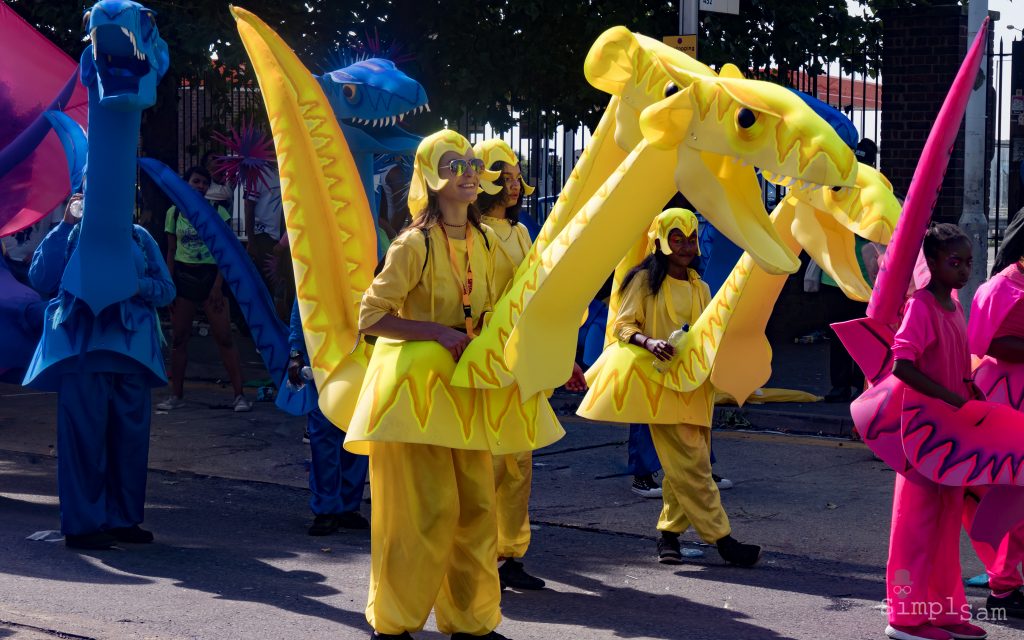 Kids Dragon Costumes
What is the London Notting Hill Carnival 2019? And Why?
Carnival is one heck of a street party. It dates back to 1966 bringing together the expat community of the Caribbean in celebration of the Caribbean culture.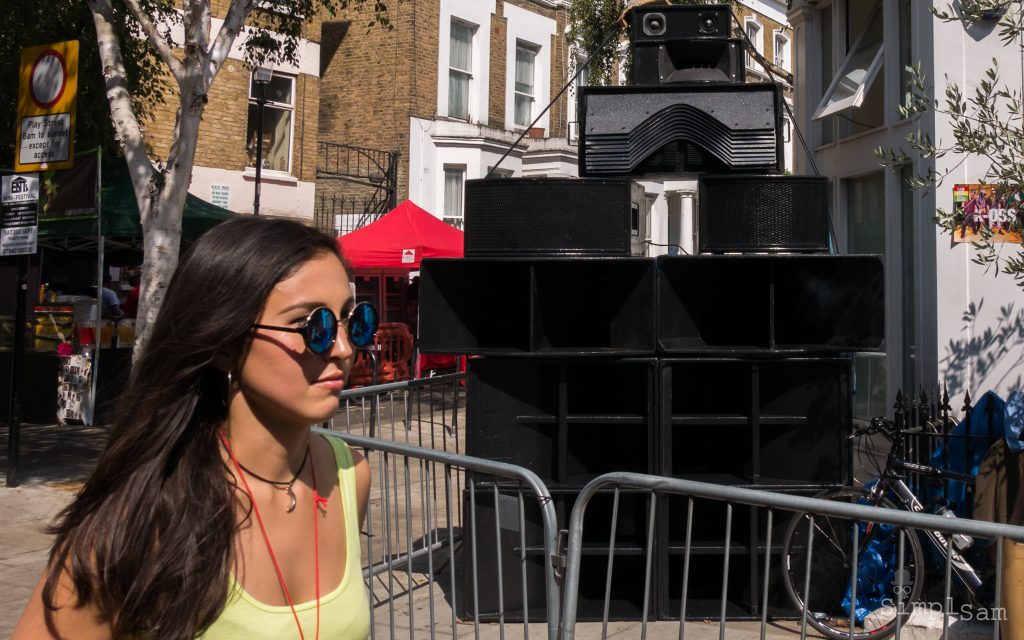 Sounding Out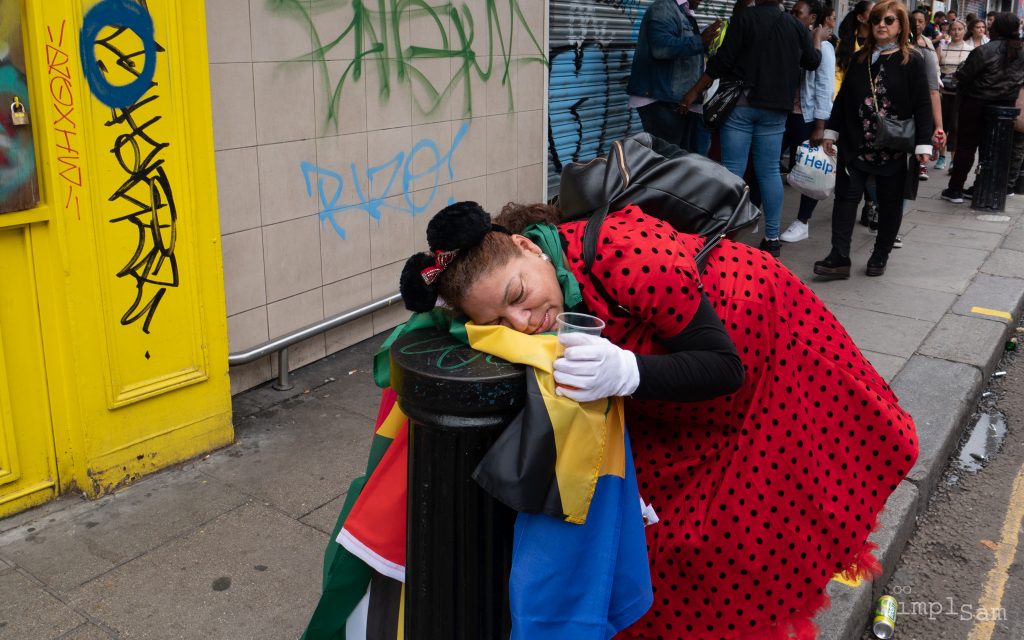 The Notting Hill Carnival 2019 is the premier one-stop party destination, with over 2 million party revellers expected to attend the festivities. DJ's, Bands, Singers and Performers will entertain the crowds with Calypso, Soca, Rap, Reggae, Blues, Soul and modern popular Dance music. Notwithstanding the members of the public (and body-popping Police) who are often the best entertainment.
So, When is the London Notting Hill Carnival 2019?
This years 2019 programme sees another 3 day event, with carnival events taking place over the bank holiday weekend of the 24th, 25th and 26th of August 2019.
Day 1 – Saturday 24th August 2019: Panorama

Time: 19:00 – 23:00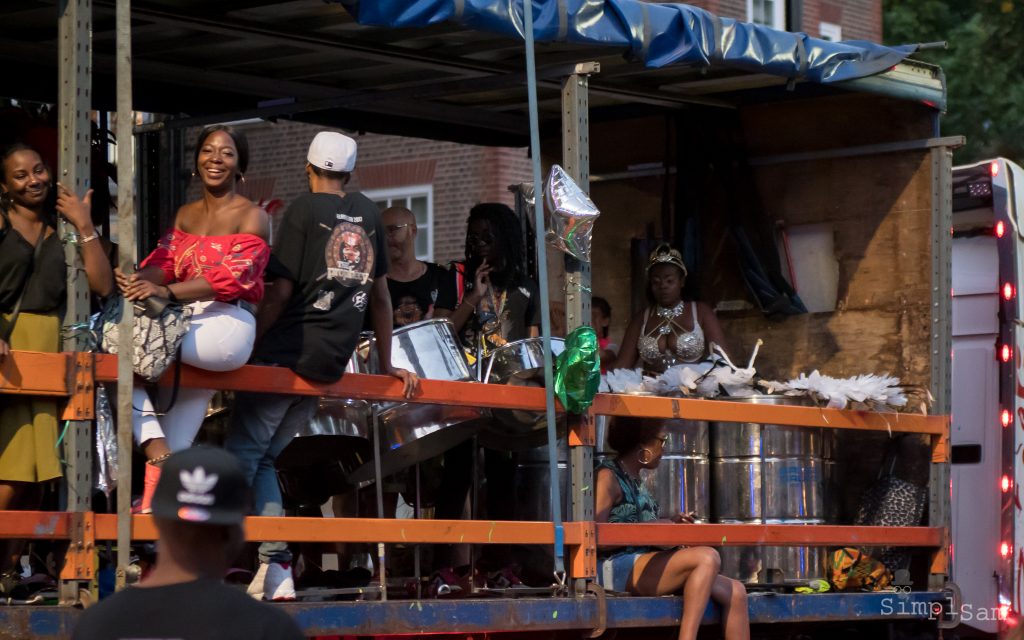 Panorama is the UK National Panorama steelband competition – which takes place between the hours of 7pm and 11pm BST on 24th August 2019. The £10 entry fee – open air competition event is held in Emslie Horniman Pleasance park, Bosworth Road, W10, and sees eight bands / orchestras play majestic live compositions from memory.
Day 2 – Sunday 25th August 2019: J'Ouvert and Children's / Family Day

Time: 06:00 – 09:00 (J'Ouvert) , then 10:00 – 20:30 (Main parades and Street Party)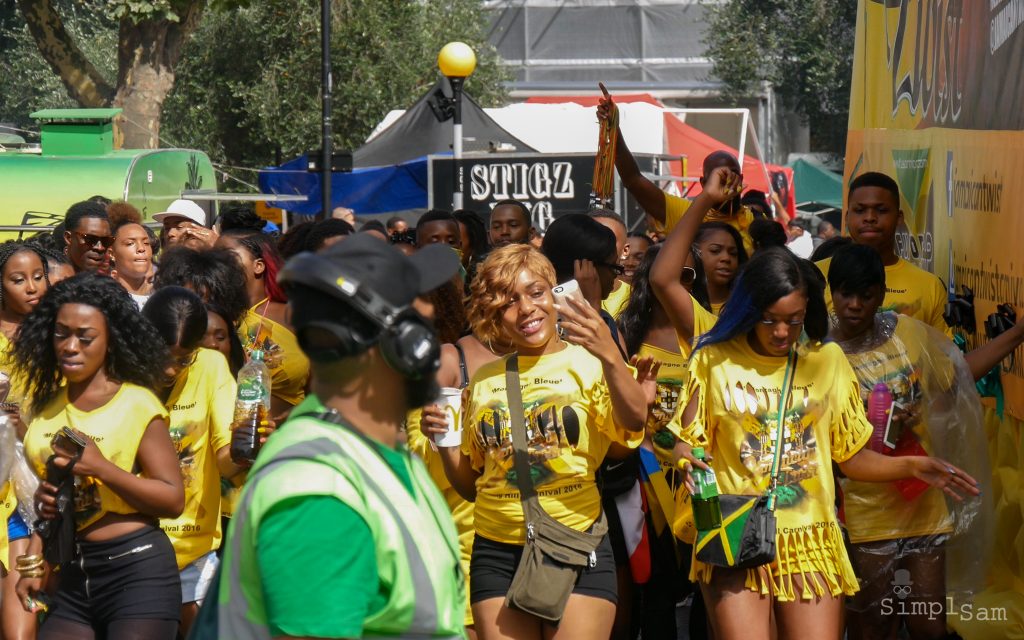 The Children's Sunday Parade / Family Day is a 'slightly' quieter affair than the bank holiday Monday. It is still very busy & bustling, but with a slightly more considerate crowd. There are many floats and processions with booming sound systems and a plethora of splendorous colourful costume displays.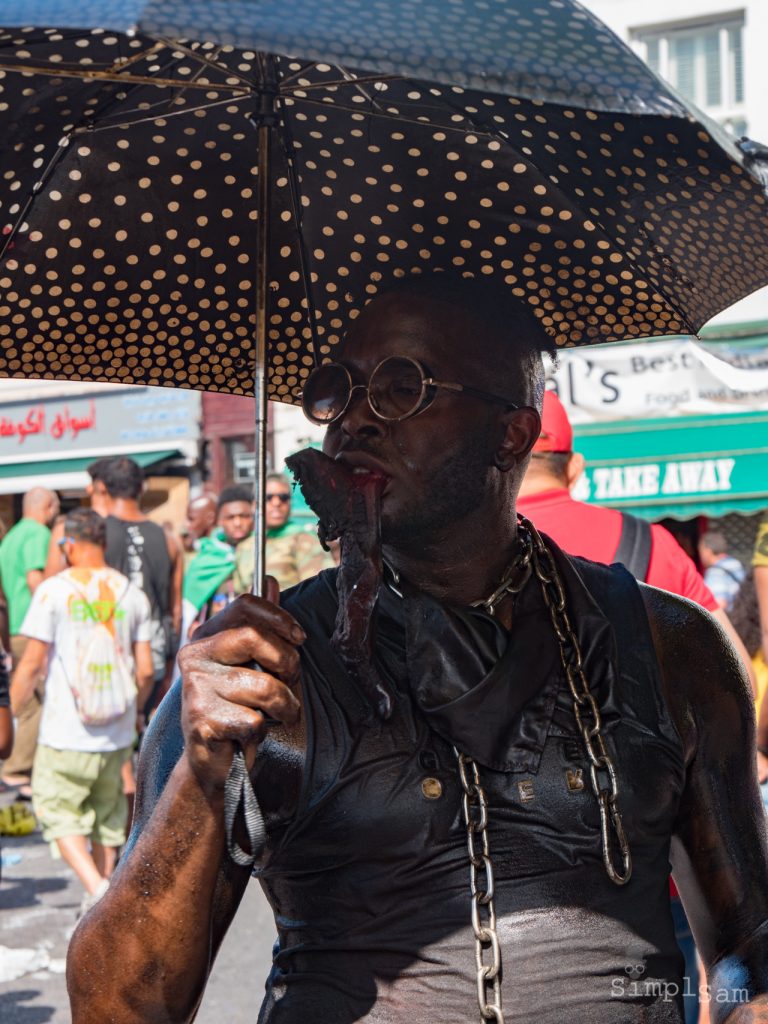 J'Ouvert is a tradition throughout parts of the Caribbean where participants (also known as "Jab Jabs") wear chains and smear paint, mud & oil on their bodies and throw powdered paints & liquids at each other. The activities start at 6am (nice and early) on Sunday morning at Canal Way (Ladbroke Grove W10) ending at 9am – before the main processions begin at 10am.
During the main carnival event (10am – 8:30pm) – Live festival style music can be enjoyed at Powis Square and Emslie Horniman's Pleasance park.
Day 3 – Monday 26th August 2019: Bank Holiday

10:00 – 20:30 (Main parades and Street Party)
If you thought Sunday was gonna be busy (and it will be) — then be prepared to play sardines on Bank Holiday Monday.
Party like a Pro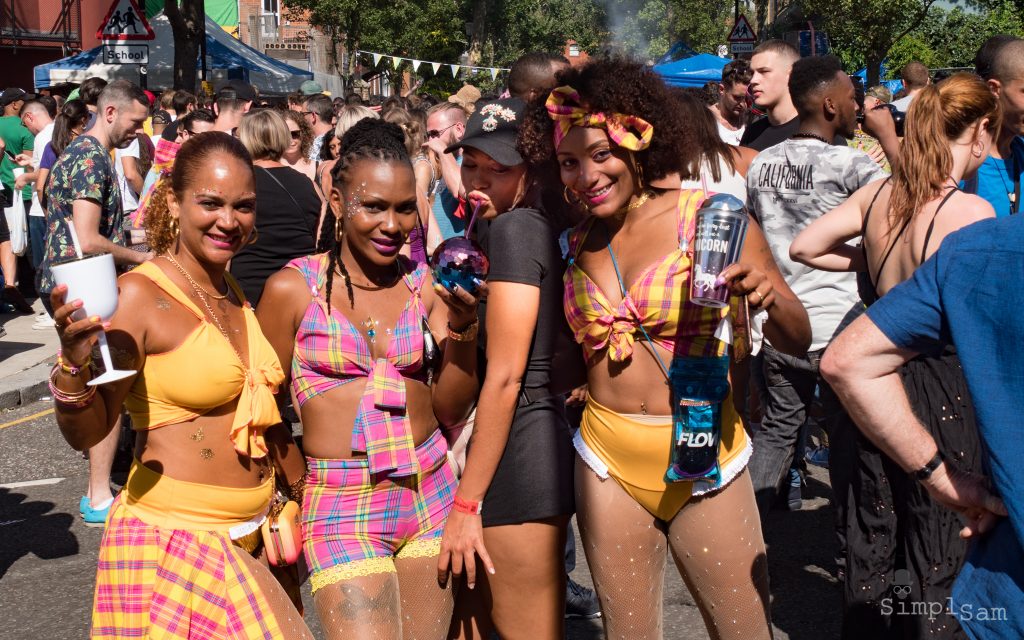 Cwazy Party Girls
The Carnival will get busy with millions of visitors expected to descend on West London over the 3 days of events.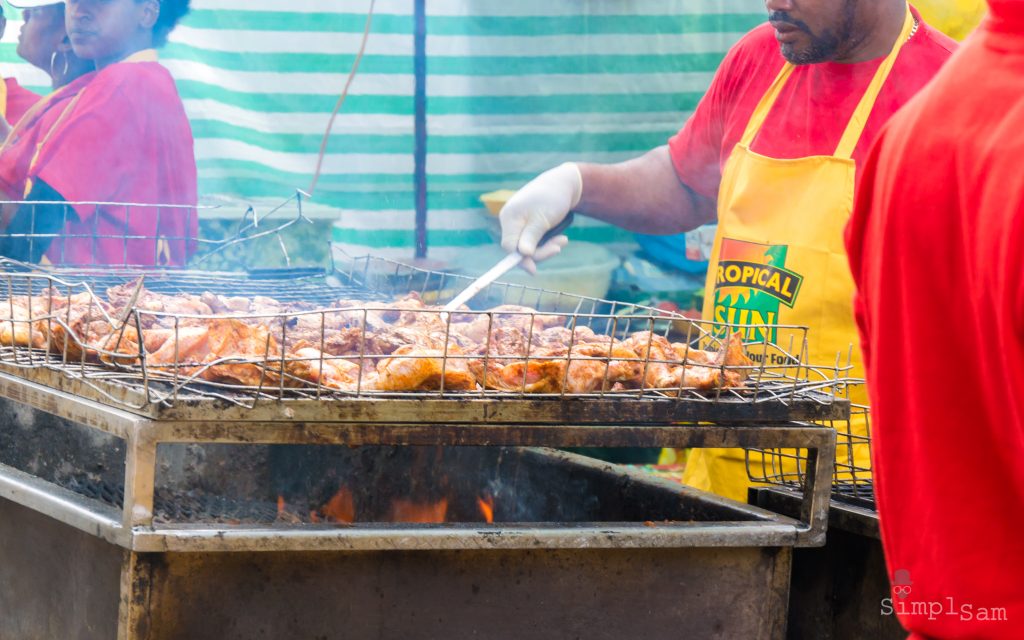 Jerk Station
Soak up the music, party and atmosphere with plenty of exotic food and Jamaican rum to help wash them down.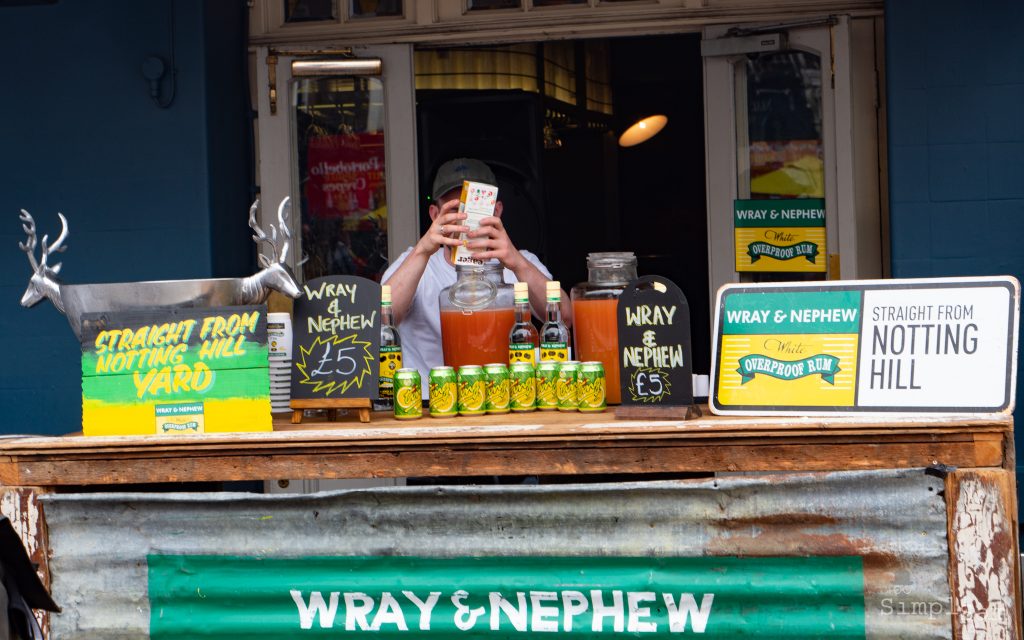 Wray and his Nephew !
Notting Hill Carnival 2019 is the world-wide renowned celebration of West Indian history, traditions, culture and music. A diverse platform welcoming all to one of the worlds greatest traditional celebrations .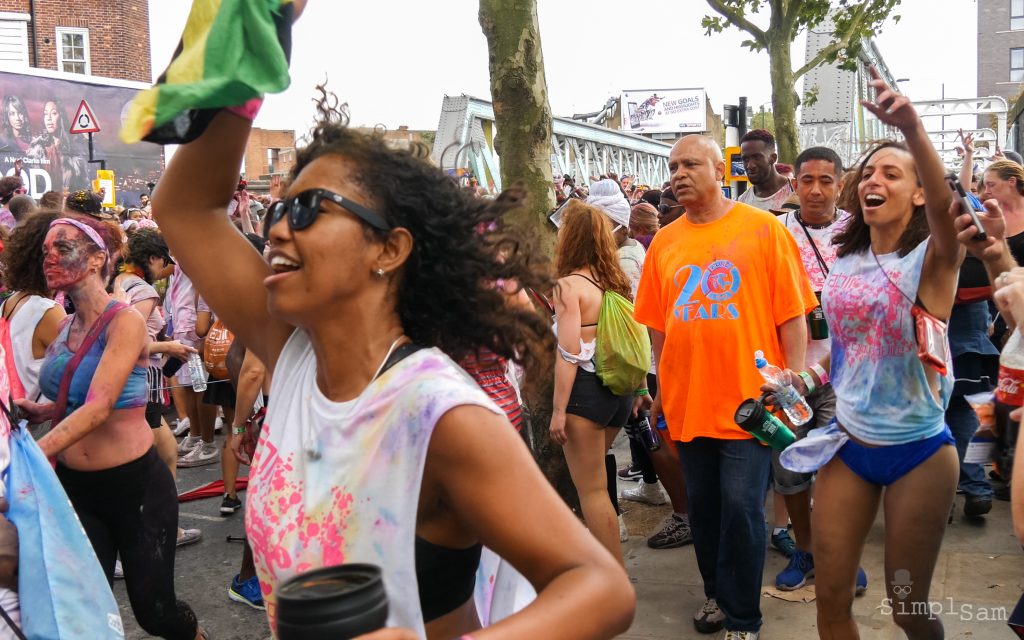 Jump n Dance
Not to be confused with the similarly named Nottingham Carnival.
Carnival Photo Gallery (25 Photos – Click to view)
Where does the Notting Hill Carnival take place?
Slap bang in the heart of West London, England centred around the Notting Hill area W10/W11 encircled by the main roads: Ladbroke Grove, Kensal Road, Westbourne Grove and Westbourne Park. The area featured in the hugely popular 1999 "Notting Hill" romcom film – staring Hugh Grant and Julia Roberts.
Notting Hill Carnival Route // Sound SYSTEM // Toilets Map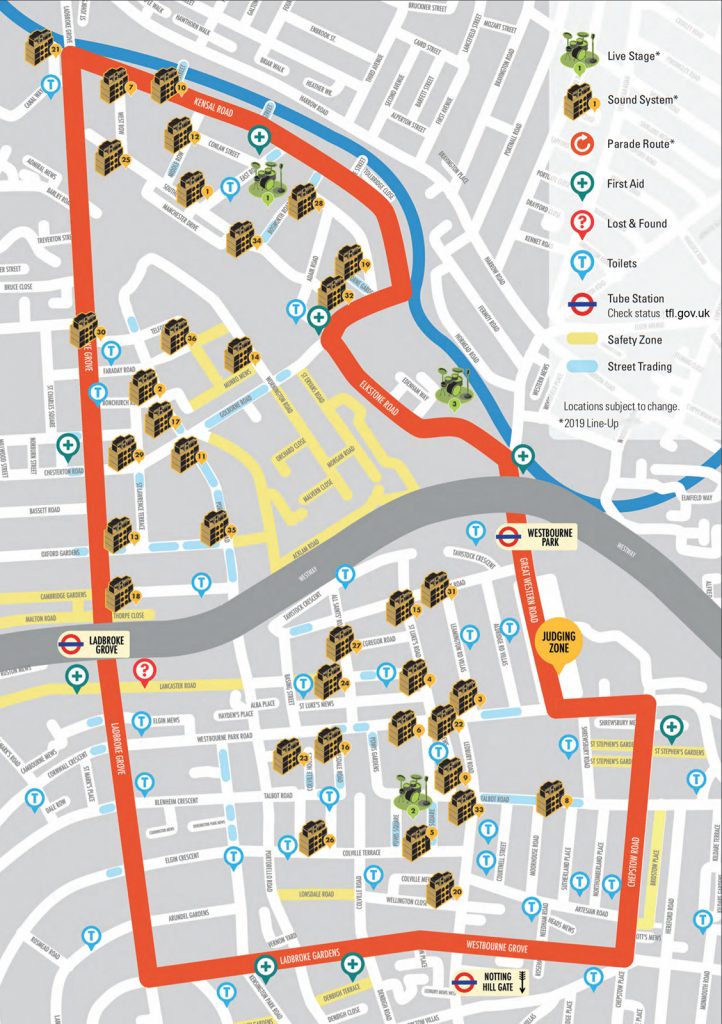 Map 2019 – [Click map to enlarge] – courtesy of Notting Hill Carnival Limited
SOUND SYSTEMS
SUNDAY & MONDAY
01 Aba Shanti-I
02 Arts-A-Light
03 Channel One Sound
03 System
04 Different Strokes
05 Disco Hustlers
06 Disya Jeneration
07 4Play Sound System
08 The Fun Bunch
09 Gaz's Rockin Blues
10 G.I. Roadshow
11 Gladdy Wax Road Show
12 GT Flex Roadshow
13 High Grade
14 KCC and the Rocking Crew
15 Killer Watt
16 King Tubby's
17 Latin Rave Street Jam
18 Lord Gelly's
19 Love TKO
20 Mark Ross
21 Mastermind Roadshow
22 Metro Glory
23 Nasty Love
24 People's Sound
25 Pineapple Tribe
26 Rampage
27 Rapattack
28 Rough But Sweet
29 Saxon Studio
30 Seduction City
31 Sir Lloyd
32 Sir Valdez
33 Solution
34 Triple S
35 Virgo International
36 Volcano Sound
Travel to and From the Notting Hill Carnival 2019
Plan your journey at: https://tfl.gov.uk
TUBE
RESTRICTED ACCESS
For safety reasons some stations may close temporarily to prevent overcrowding. It may be worthwhile walking part of your journey or seeking an alternative route. You could always take private Jets with the Royals.
– Ladbroke Grove: Station closed.
– Latimer Road: Closes at 11.30pm.
– Notting Hill Gate: 11am – 7pm Exit only. District/Circle lines will not stop. No interchange between Central line and District and Circle lines all day.
– Westbourne Park: Exit only 11am – 6pm. Closes at 11.30pm.
– Holland Park: Closes at 6pm.
– Royal Oak: Exit only 11am – 6pm. Closes at 6pm

LONDON BUSES
London Buses operate extra day and night buses to serve Carnival.
BUS DIVERSIONS
Sat 24th 10pm to Tues 27th (early morning)
Due to road closures, day/night buses will be diverted away from the Carnival area. To the north of the Carnival area Buses start from 'Prince of Wales' on Harrow Road. To the south of the Carnival area Buses start from: Notting Hill Gate. Bus stops within or next to the Carnival area will carry displays about diversions or disruptions.
Bus routes affected: 2, 7, 16, 18, 23, 27, 28, 31, 36, 46, 52, 70, 94, 98, 148, 205*, 220, 228, 295, 316, 328, 332, 414, 452, N7, N16, N18, N28, N31, N98, N205, N207. *205/N205 are re-routed as part of recent bus changes and no longer serve Marylebone. Use route 453 for Marylebone Station.
Plan your journey at: https://tfl.gov.uk
Other info….
Official Carnival Guide PDF: Notting Hill Carnival 2019 PDF Guide
Official WebSite: Notting Hill Carnival (source: travel and performers information)
Transport For London (TFL): Transport For London